Smiling Can Improve Your Quality of Life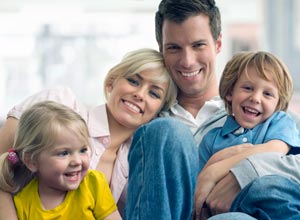 As the song goes: When you're smiling, the whole world smiles with you. Dentists know that this verse still rings true today.
When you smile — that is, when you're not afraid to open your mouth and show your teeth — you convey a sense of well-being and confidence. And, indeed, everyone wants to smile with you.
In fact, it's contagious. People respond to a healthy, shiny smile. It doesn't matter if they're a prospective dating partner or a future boss.
Research shows that smiling improves health, relieves stress, and lowers your blood pressure. It improves your mood and, in a culture obsessed with youth, lifts your face and makes you look younger. And this can have a profound effect on your overall quality of life.
To keep your smile for a long time, you need to take care of yourself. You need to show you have confidence. And if you are hiding your smile because your teeth are yellowed, missing or deteriorating, you may be missing out on some of the joys — and intimacies — of life.
How Smiling Improve Your Lifestyle
The Ann Arbor dentists at New Era Dental can help you discover more options for enhancing and restoring your smile through quality dental treatments. For instance, you might need dental implants, which can offer a permanent solution to dental problems. Our dentists are able to offer a wide range of cosmetic and restorative options. And don't be afraid of the procedures — as these techniques have come a long way through the benefit of many modern, cutting edge advances. Whitening procedures have also advanced since they were first introduced on the market, and are not as harsh or cumbersome as they once were.
There is a world of options for you and your teeth. By taking control and consulting our cosmetic dentists at New Era Dental you will discover that improving your smile is not as difficult as you may have thought. You'll be able to restore your smile and your confidence. And that, in turn, will give you back your quality of life.
To learn more about Ann Arbor family dentists at New Era Dental and the dental services we offer, please contact us here or call us at 734-339-2131. The dental team New Era Dental strives to be the very best at providing our patients with optimal care while making them feel right at home.