All-On-4 Implant Support Dentures Cost
Find Out if All-On-4 Dental Implants Are Right for You
Missing teeth can make it difficult to speak, chew, and smile. It can also lead to significant jawbone deterioration. If you've ever thought about dentures but want a more permanent solution, all-on-4 dental implants may be right for you. At New Era Dental in Ann Arbor, MI, our dental professionals can customize a set of all-on-4 full-mouth dental implants that will help restore form and function to your teeth so that you can feel more confident about your smile. Our compassionate and experienced dental team can customize a solution that fits comfortably and looks like your natural teeth. Learn more about why we recommend all-on-4 dental implants for many of our patients.
Benefits of All-On-4 Dental Implants
Discover why more patients are choosing All-On-4 Dental Implants.
---
Restores Jawbone
Titanium implants stimulate jawbone growth to prevent deterioration.
Natural-Looking Results
Our precise and high-quality customization process ensures a comfortable and natural-looking result.
Youthfulness
Maintain a youthful appearance by alleviating fascial sagging that often accompanies missing teeth.
Comfort
All-on-4 dental implants are fixed to your jawbone, which prevents slippage and reduces irritation.
Better Oral Health
A permanent dental implant improves your overall oral health.
Permanent
All-on-4 dental implants don't require any special care and can be brushed and flossed like your natural teeth.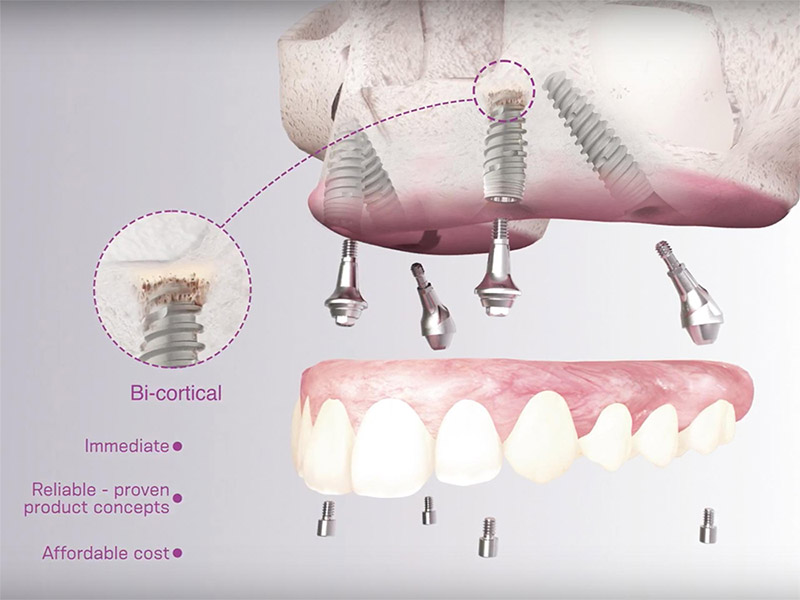 Let Us Help Restore Your Smile and Confidence
We have helped numerous patients achieve their smile goals and improve their confidence with high-quality dental services, including all-on-4 dental implants. Discover why more families and individuals choose us.
Comfortable and Compassionate Care
The Latest Dental Technology
All Our Work is Guaranteed
On-Site Lab for All Your Specialty Dental Needs
Board-Certified Specialists
All Dental Appliances Are Backed by a Full Warranty
Frequently Asked Questions